School celebrates DEI Day, Ida Gray Awards

7

min read
Ann Arbor, Mich., Feb. 26, 2020 – The School of Dentistry presented its annual Ida Gray Awards Tuesday to a student, staff member and an associate professor who have actively contributed to the school's welcoming and inclusive environment.
The awards were the centerpiece of a Diversity, Equity and Inclusion Day program that called attention to the school's longstanding vision and values aimed at celebrating diversity among its students, staff, faculty and patients.
The award is named for Dr. Ida Gray, the first African American woman in the country to earn a DDS when she graduated from the School of Dentistry in 1890. She was also the first black woman to practice dentistry in Chicago. Students, faculty and staff nominate candidates, with the winners selected by the school's Multicultural Affairs Committee (MAC).
This year's Ida Gray Award winners are: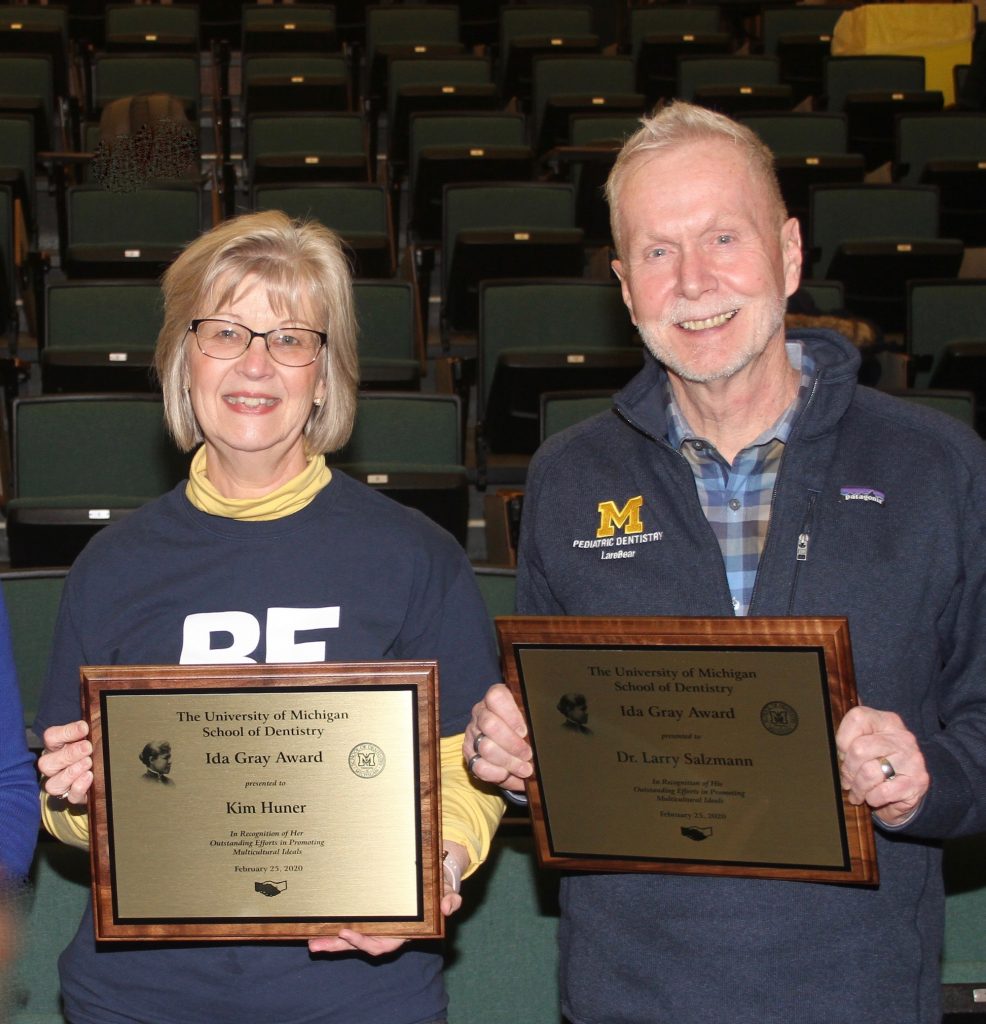 • Staff: Kim Huner. As assistant to the dean, Huner welcomes the dental school community and the public to the Dean's Office and collaborates across the school on many initiatives. Described by a nominator as "the most genuinely positive and welcoming individual I have ever worked with," Huner was cited for her enthusiasm for the school's mission and in particular for its commitment to diversity, equity and inclusion. One of her many duties is coordinating search committees for open faculty and leadership positions. In that role she is diligent about providing resources so that the committee members and chair are able to consider a diverse pool of candidates in accordance with the school's vision and values. Receiving the Ida Gray Award is particularly appropriate for Huner because she works only a few feet from a portrait of Gray that is prominently displayed in the Dean's Office reception area. She often answers visitor questions about the history of Ida Gray, leading a nominator to observe that Huner has probably engaged in more dialogue about Ida Gray with more people in the school than any other staff member.
• Faculty: Dr. Larry Salzmann. Salzmann is a Clinical Associate Professor in the Department of Orthodontics and Pediatric Dentistry. He serves as Director of the Predoctoral Program in Pediatric Dentistry as well as Clinic Director for Pediatric Dentistry. Described as "a great mentor who is very well-loved and admired by the dental school community," Salzmann has been actively involved in diversity, equity and inclusion since he started at the school in 2016. As faculty co-chair of the school's Multicultural Affairs Committee (MAC), he has been instrumental in planning many of the schoolwide events that celebrate DEI. In accepting the award, Salzmann mused about a cartoon character's line, "The things that make me different are the things that make me." In the context of an enterprise like the dental school, Salzmann said, that expression can be modified to say, "The things that make us different are the things that make us." He urged everyone at the school to continue to be agents of change to maintain its welcoming and inclusive community, "not only because of our similarities but by exploring and celebrating the things that make us different."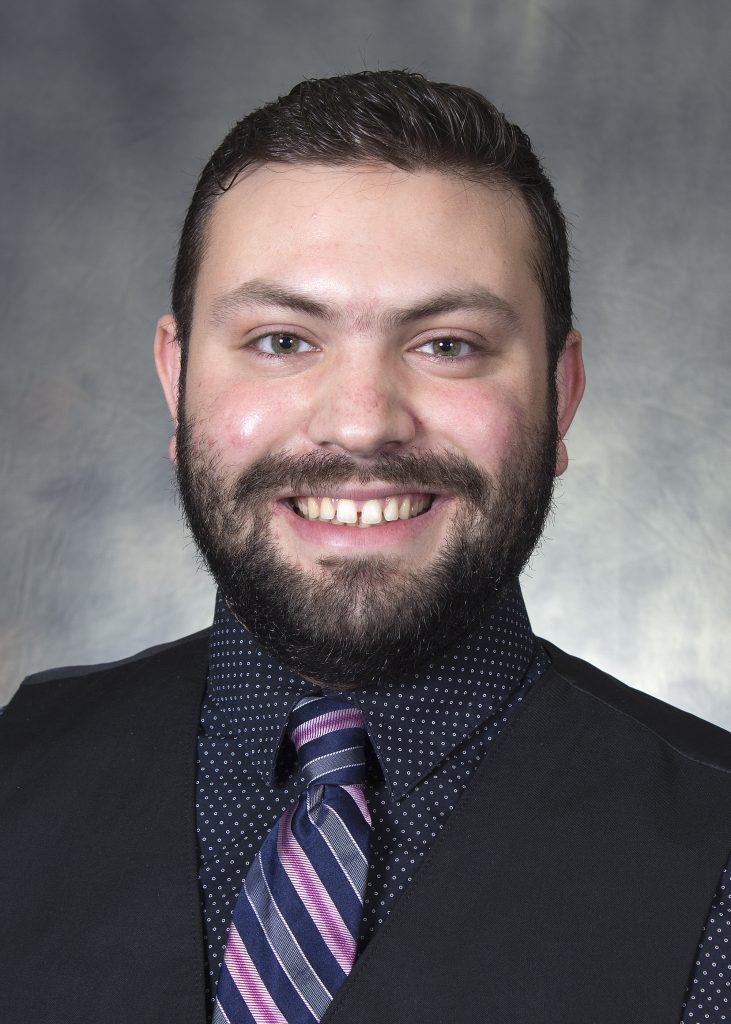 • Student: Said Al-Jazaeri. A Dental Hygiene student who will graduate in May, Al-Jazaeri was cited for his continuous work and leadership with various organizations and initiatives. A nominator said the list of his activities outside his academic requirements would be too lengthy to list. As an illustration of his busy schedule, he was unable to attend the awards ceremony because he is in Kenya with a group of students and faculty participating in the school's Global Initiatives program. That team implements preventive and early intervention oral health programs in several primary schools in rural Meru, Kenya. Other examples of his service include co-chair of the school's MAC and vice president of the student chapter of the American Dental Hygienists Association. "Said's natural instincts and motivations are to serve others, regardless of their race, gender or ethnicity," a nominator wrote. "Whether it is to volunteer for a free dental day event or a health fair at a nearby elementary school, Said is always the first student to sign up and give of his time."
Dean Laurie McCauley opened the DEI Day program by recounting some of the school's early history under the leadership of its first dean, Jonathan Taft, from 1875-1903. It was a time when women were rarely accepted into higher education, let alone professions like dentistry, but Taft was a pioneer. Before he arrived as dental school dean at U-M, he mentored Lucy Hobbs Taylor, the first woman to receive a dental degree in the U.S. (in 1866 from a dental college in Ohio). Taft wrote positively about the dentistry skills of women and their ability to elevate the profession, a view reinforced when Ida Gray graduated from U-M in 1890.
"That is the sort of inclusivity that our school was founded on," McCauley said. She echoed statements by U-M President Mark Schlissel, who in recent years has used the example of Ida Gray as a remarkable achievement that can serve as inspiration moving forward. "What can we do now, that 100 years from now, people will look back and say, wow, that was something remarkable, that was something special," McCauley said.
Dr. Todd Ester, Assistant Dean for Diversity, Equity and Inclusion, thanked his DEI co-chair Natalie Brown, Director of Human Resources, members of the MAC, and everyone at the school who is committed to making it a warm and welcoming atmosphere for education, patient treatment and work environment. He said reflecting on Ida Gray's life is a great way to celebrate the school's successes in the area of DEI.
"When you think about her time practicing in Chicago at a time when it would have been illegal in many states, it really gives us a chance to reflect on how far we've come, but we also have a long way to go," he said. "We're so thankful that those in our community – staff, faculty and students – are lifting up these efforts in how we can break down barriers, punch holes in the darkness and how we can make a difference in the real world."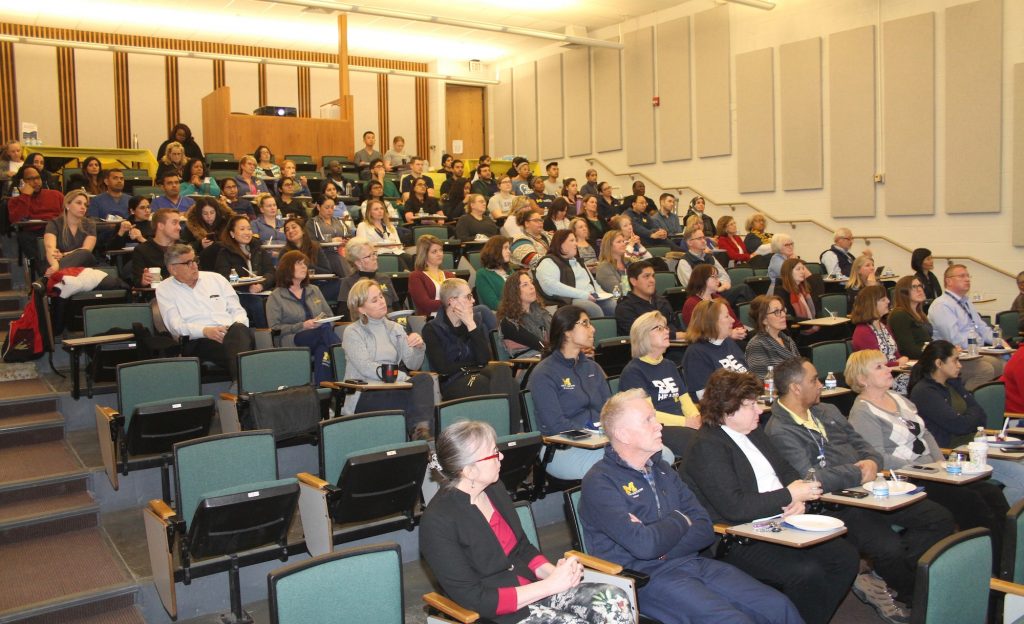 •
Previous Recipients of Ida Gray Awards Since Its Inception in 1997
2019 – Carl Buchanon II, Dinella Crosby, Dr. Kevin Sloan
2018 – Kelsie Pittel, Hussain Haider, Dr. Shahrzad (Sherry) Mirafzali, Dr. Elliott Hill
2017 – Dr. Kenneth B. May, Carlotta Fantin-Yusta, Teresa Patterson
2016 – Dr. Bonita Neighbors, Guneet Kohli, Dean Laurie McCauley
2015 – Dr. David White, My Yang, Dr. Margherita Fontana
2014 – Scott Ward, John Squires, Isabel C. Castillo
2013 – Jauana Gissendanner, Elizabeth Easter, Wolverine Patriot Project
2012 – Ricardo Lugo, Dr. Henry Temple, Dr. James Lee
2011 – Christinel Dima, Evelyn Lucas-Perry, Dr. Sharon Brooks
2010 – Synthinia Pryor, Javier Johnson, Dr. Preetha Kanjirath
2009 – Dr. Ali Nikoo, Nejay Ananaba, Dean Peter Polverini
2008 – Elizabeth Rodriguez, Joan Anderson, Dr. William Gregory
2007 – Patricia Anderson, Brent Frey, Dr. Marilyn Woolfolk
2006 – Tamanika Terry Stewart, Paul Lopez, Dr. George Taylor
2005 – Diane Nixon, Justin Smith, Dr. Todd Ester
2004 – Patricia Katcher, Erika J. Tyler, Dr. Graham R. Holland
2003 – Cara Voss, Paulta Lloyd, Dean William Kotowicz
2001 – Cheryl Quiney, Damon Watson
2000 – Dr. Emerson Robinson
1999 – Dr. Lisa Tedesco
1998 – Dr. Marita Inglehart
1997 – Dr. Lee Jones
###
The University of Michigan School of Dentistry is one of the nation's leading dental schools engaged in oral health care education, research, patient care and community service. General dental care clinics and specialty clinics providing advanced treatment enable the school to offer dental services and programs to patients throughout Michigan. Classroom and clinic instruction prepare future dentists, dental specialists and dental hygienists for practice in private offices, hospitals, academia and public agencies. Research seeks to discover and apply new knowledge that can help patients worldwide. For more information about the School of Dentistry, visit us on the Web at: www.dent.umich.edu. Contact: Lynn Monson, associate director of communications, at dentistry.communications@umich.edu, or (734) 615-1971.