Student Profile: Jordan Brown

13

min read
This profile is one in a series highlighting School of Dentistry alumni, donors and students.
Fourth-year dental student Jordan Brown is not shy about sharing his enthusiasm for dentistry. Whether it is talking to him in person or paging through the dozens of photos and videos he posts on his Instagram social media page, it's clear he is "all in" on the profession he is about to join when he graduates next spring. His thoughtful discussion of how he chose dentistry and the University of Michigan School of Dentistry indicate that this articulate advocate is someone who thinks quite a few steps further ahead than most people.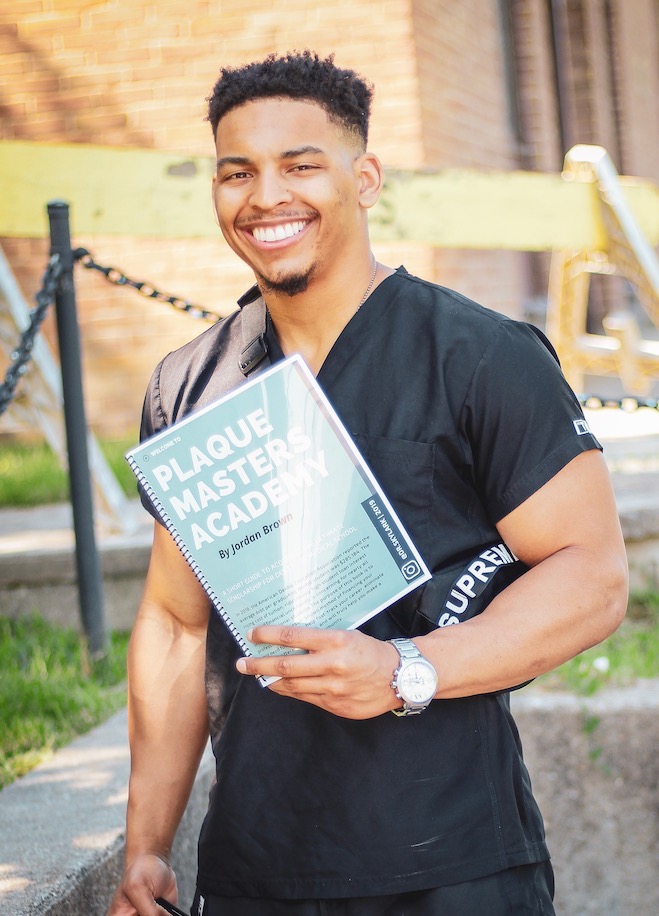 That's why it is a bit jarring to come across a recent Instagram image that he posted with the all-capitals headline: DO NOT BECOME A DENTIST. What?! Jordan Brown dissing dentistry?!
The image is eye-catching. With exaggerated wide eyes and a goofy raised eyebrow, Brown is pointing to a white board with the same hand-written words as the headline. If you know him, it's impossible to resist clicking on the image to find out what is going on with this seemingly out-of-character command about dentistry. The video opens with a close-up of Brown, wearing a white suit coat over a black shirt, speaking in an emphatic tone. As he speaks, he slaps a fist into the palm of his other hand and slowly repeats each word on the white board: "Do … not …become … a … dentist." But there's a catch. The video cuts away for a few seconds to a graphic and music. When the camera returns to Brown, he adds several caveats to the original statement:
• "Do not become a dentist – if you just want to make a lot of money. Way easier ways to make money. Dental school is four years plus at least $200,000. If you just want to get rich quick, go into real estate."
• "Do not become a dentist – if you don't like teams. Dentistry is a team sport. You've got the dentist, hygienist, assistant, front desk, specialists. You have to work with others."
• "Do not become a dentist – if you don't like to learn. Dental school teaches you the alphabet. After you graduate, you have to learn how to write sentences."
• "Do not become a dentist – if you're scared to make mistakes. It's called a dental practice. Practice for a reason."
He ends the video by asking: "What other reasons should someone not become a dentist? Let me know in the comments below."
Within a week or so, the video had been viewed 3,512 times and several complimentary comments were posted by viewers who said they had experienced one or another of his points about the wrong reasons to join the profession. Among the follow-up suggestions was a viewer who added, "Don't become a dentist if you can only see 32 teeth on the chart and not the actual patient. There are some pretty scared, high maintenance patients out there and you have to treat them like you would if it were you in the chair."
Mission accomplished for Brown. His Instagram post had prompted a discussion about dentistry and had been seen by more than 3,000 people, many of them likely undergraduate students considering dentistry. Brown has been cultivating that audience because he noticed that not many dentists or dental students blog about the profession. He views himself as a mentor and teacher who can share valuable experience and information for students who are weighing career options and are unsure about whether dentistry is a good fit for them. And as an African American, he understands the value of being a model and inspiration for others "who look like me," as he puts it.
So over the last couple of years, in addition to his studies and clinic work at the dental school, he spends a considerable amount of time thinking of ways, through Instagram and other outlets, that he can share what he knows about dentistry. He offers up information about how to get into dental school. He posts photos and comments demonstrating the daily life of a dental student. He plugged a book he read, "Titans of Dentistry," that interviews successful dentists around the country for their advice on the profession.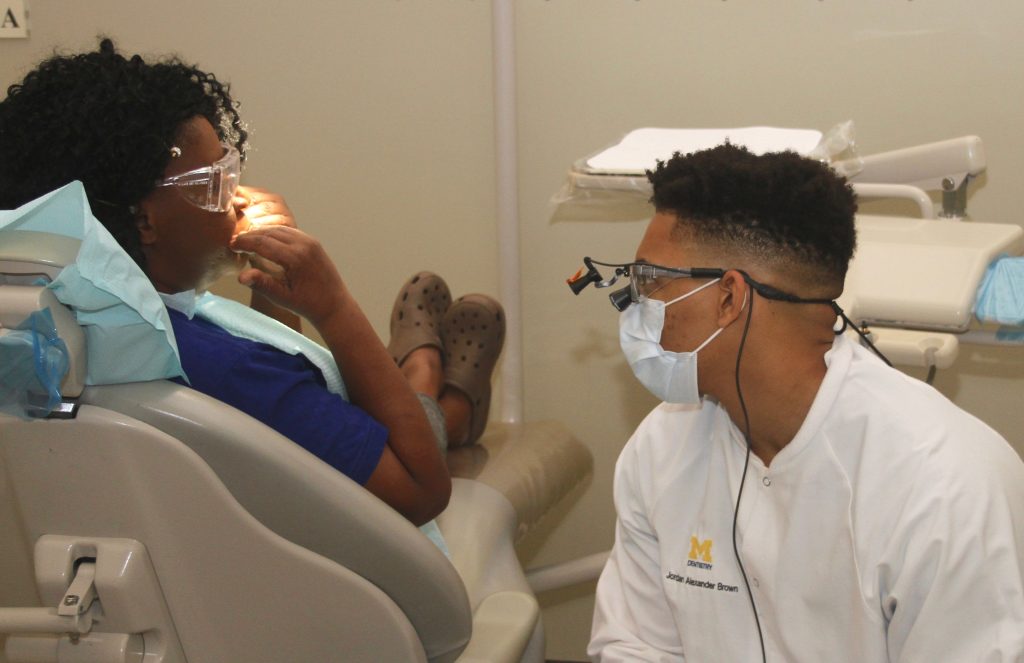 Brown says one of his most important contributions is offering advice on how to limit student loan debt, which can exceed $200,000, sometimes significantly more, by the time a student graduates. That's why he created a "mini-book" that is both online and in printed version called, "Plaque Masters Academy: A Short Guide to Acquiring the Ultimate Dental School Scholarship." It explains a federal initiative called the National Health Service Corps Scholarship. The program pays the tuition for students earning healthcare degrees, then requires that they work in return for an equal number of years in a community clinic or private practice in an area the federal government has determined is underserved by medical professionals in their field. Brown qualified for the scholarship in his second year at the dental school in 2017, when the dental school had the unusual distinction of having one student in each of the four class years with the highly competitive scholarship. Brown's NHSC scholarship pays for his last three years of dental school and then requires that he work for three years in an underserved area.
In his booklet, Brown writes: "The information in this book can help fast-track your career, eliminate your need for student loans, and alleviate your financial commitment. Student loans are a lot like dental plaque: debilitating, destructive, and everybody has at least some of it sticking around. I will show you how you, too, can master the financial plaque of dental school." In addition to explaining the scholarship program, which he says many students have never heard of, he offers financial management tips like how being a Graduate Resident Advisor in campus housing saved him housing costs, and why cooking at home is considerably cheaper than eating out at restaurants all the time.
This sort of altruistic sharing of free advice about dentistry, along with the captivating images and videos, have prompted more than 8,500 people to "follow" Brown's posts on Instagram. He posts as "Dr. Skylark," a name he adopted from a kids' television cartoon character, Chip Skylark, who sang about his shiny teeth. Not all of those who follow Brown on Instagram are prospective or current dental students since his posts also include personal photos that would be of more interest to his family and friends. One from last March shows him on bended knee proposing to his girlfriend of six years, Shakirah Dodson, in front of a photogenic gothic arch at the U-M Law Quad. Others document his prowess as a weight-lifter, which is one of his passions when he's away from the dental school.
Brown's immersion in dentistry today is the result of a well-considered education path that he developed as he was growing up in Orlando, Florida. As a child, he was self-conscious about his teeth, which he said were large for the size of his face. Other kids teased him about his appearance. Eventually he went to an orthodontist for braces. "That was my first exposure to dentistry," he said. "I saw the changes my smile underwent. I got more self-confident. I started making new friends. When I was older and thinking about career choices, I found that it was a real turning point in my life. Originally, I wanted to go into dentistry to become an orthodontist because I wanted to give people that same level of satisfaction with their teeth, their smile, their appearance and their self-confidence. But when I started shadowing dentists, I started getting a better appreciation for the therapeutic aspects of dentistry. People come in with pain and you are able to relieve that pain. You are able to do something directly with your hands to have a positive impact on people. I think that was the most striking thing about dentistry – you are able to interact with people of all different walks of life. That's what got me into dentistry."
Brown chose to attend Morehouse College in Atlanta, Ga., one of the country's historically black colleges and universities (HBCU). He chose the all-male college in part because a cousin who graduated from Morehouse went on to obtain a PhD from a prestigious graduate school, setting an example Brown wanted to emulate. And he liked the fact that Morehouse had a track record of producing many highly successful African American graduates who have become leaders in their fields. He majored in biology and began looking ahead to what he wanted in a dental school. He realized that his educational criteria had changed a bit by the time he neared that decision. "I loved that HBCU environment but I knew that's not how the entire world is," he said. "The world is a melting pot." So he began looking at top-ranked dental schools that would have a commitment to diversity of all kinds.
During his sophomore year at Morehouse, when he was researching various dental schools, he discovered that Dr. Todd Ester, the U-M dental school's Assistant Dean for Diversity, Equity and Inclusion, was a Morehouse alumnus. When Ester visited Morehouse for a Homecoming event, the two met and it was the start of a recruitment effort that continued over the next couple of years. Brown liked Michigan but applied to eight dental schools and made visits to all of them, including Harvard and UCLA. Ultimately, several factors led to U-M, beyond the high academic reputation. A fellow Morehouse alumnus, Blake Bufford, two years older than Brown, was already attending the U-M dental school and could be a mentor. The fact that U-M had an assistant dean for DEI and a robust commitment to diversity played a role, made even more comfortable by Ester being a Morehouse grad and model of success. In the end, Brown said, he liked the diversity in the classes that he saw at U-M. "It is very representative of what the United States looks like," he said. He also liked the large school environment with events like 110,000 people going to a football game, something he didn't experience at the much smaller Morehouse. "The Michigan pride of the entire area around Ann Arbor and Ypsilanti is dedicated to the university. It felt very welcoming," he said.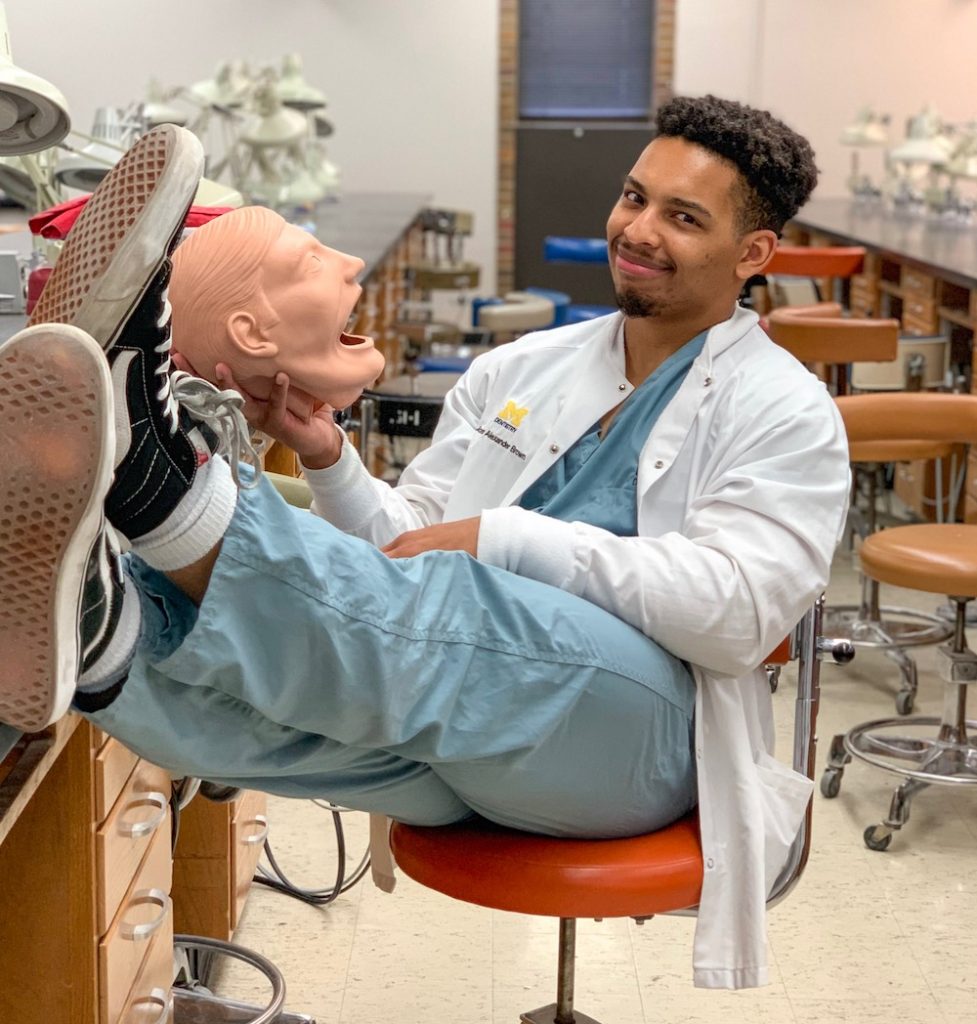 Now that he is well into his final year, Brown says the school has lived up to his expectations for education, the social environment and the opportunities, like a trip he took to China last spring as part of the school's Global Initiatives Program. A small group of students visited a Chinese dental school for what Brown calls "the best two weeks of my life" because he learned how the communal culture of the Eastern world contrasts with the more individualized culture in this country. He delivered two lectures for the Chinese students and faculty, one on "Comprehensive Oral and Periodontal Treatment Planning" and another on "Integrative Dentistry," which is using complementary and alternative therapies to benefit patients and their health outcomes.
Brown said he is happy to finally be focused more on treating patients than classroom lectures. Earlier this summer he went on a rotation to the Grand Rapids area to work in a Federally Qualified Health Center. He treated many patients in a fast-paced daily schedule that almost made the dental school clinic work seem slow by comparison. "It was a real-world glimpse into what my practice life will be like," he said. "It was very enjoyable. I loved every second of it." There will be more rotations throughout the rest of his final year, as well as continued patient care in the dental school clinics.
One afternoon a few weeks ago, he was working in the "2 Blue" clinic on the second floor with a patient who he says is his favorite so far. She is an example of why dentistry is rewarding, he said. He made her a new denture to replace one that was worn out and cutting her mouth when she talked. "She was beyond happy with the new one. She said, 'I have my genuine smile back.' That made me feel really good about it. That's the sort of positive impact we can have."
As graduation approaches, Brown is applying to programs offering a year-long Advanced Education in General Dentistry residency, or AEGD. Not only will it help wherever he ends up in private practice, but it also will help when he begins his three-year commitment working in an underserved area in order to pay back his NHSC Scholarship. He is looking for an AEGD closer to the southern warm weather he grew up with and says he likely will pick an NHSC designated areas in the South as well. Wherever he ends up, he feels his U-M DDS and AEGD residency will have well-prepared him for the whole point of dentistry – doing as much for a patient as possible.
"When I go into these communities that don't have access to a dentist, I can do as much as I can without having to refer them out since they may not be able to travel to a specialist," he said. "Hopefully, I can treat 99 percent of the problems."
•••
See Jordan's Instagram posts here. You can read his booklet on the National Health Service Corps Scholarship here.
###
The University of Michigan School of Dentistry is one of the nation's leading dental schools engaged in oral health care education, research, patient care and community service. General dental care clinics and specialty clinics providing advanced treatment enable the school to offer dental services and programs to patients throughout Michigan. Classroom and clinic instruction prepare future dentists, dental specialists and dental hygienists for practice in private offices, hospitals, academia and public agencies. Research seeks to discover and apply new knowledge that can help patients worldwide. For more information about the School of Dentistry, visit us on the Web at: www.dent.umich.edu. Contact: Lynn Monson, associate director of communications, at dentistry.communications@umich.edu, or (734) 615-1971.