Dr. Niklaus Lang honored with distinguished periodontics alumnus award

2

min read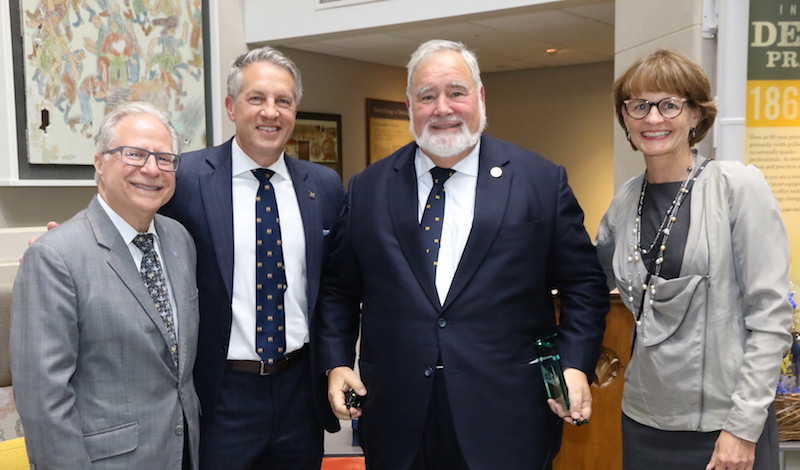 Ann Arbor, Mich., Sept. 25, 2018 -– Dr. Niklaus Lang is the inaugural recipient of the Distinguished Periodontics Alumnus Awardpresented by the Department of Periodontics and Oral Medicine at the School of Dentistry.
Lang, who earned his master's degree in periodontics at the school in 1975, received the award during a dinner at the school on Sept. 17. The event was jointly sponsored by the Osteology Foundation and the POM department as part of its third biennial Osteology Michigan-Harvard Research Academy.
The new award recognizes an alumnus of the U-M graduate program in periodontics who has demonstrated distinguished accomplishment in the art and science of periodontology. The award will be given every third year and in the future will be named the Niklaus P. Lang Distinguished Michigan Periodontics Alumni Award.
Lang has been a professor and honorary professor at universities around the world over five decades. He currently holds two positions at universities in Switzerland, as an honorary professor at the University of Zurich and as Professor and Chair Emeritus at the University of Bern. He has published more than 650 articles in peer-reviewed scientific journals and several textbooks, and has lectured on five continents. He founded the journal Clinical Oral Implants Research and served as its editor-in-chief for 26 years, until 2016. He is an honorary member of 17 national and international organizations, including the American Academy of Periodontology.
In making the award presentation, William Giannobile, professor and chair of the Department of Periodontics and Oral Medicine, described Lang as one of the most distinguished graduates to ever walk the halls of the dental school. "If there was a Mt. Rushmore for outstanding periodontal leaders, Klaus would be on it," Giannobile said.
Lang was cited for advancing knowledge about periodontal diseases in areas such as diagnosis, etiology, pathogenesis, therapy and inter-disciplinary care in both periodontology and implant dentistry. "He has had a way of bringing together periodontology and prevention with reconstruction and clinical care," Giannobile said.
Presenters praised Lang's work as a mentor for several generations of academicians and clinicians. In June, the European Federation of Periodontology recognized Klaus for his 50 years of contributions to the profession.