Donor Profile: Dan and Deb Peters Know — and Love — Dentistry

9

min read
This profile is one in a series highlighting School of Dentistry alumni, donors and students.
Ann Arbor, Mich., May 24, 2018 -– Dan and Deb Peters had not planned to celebrate the 25th anniversary of their graduation from the School of Dentistry, but it turned out they had an excellent reason to mark the occasion.
The couple returned for the school's 2018 spring commencement at Hill Auditorium on May 4 because it is tradition for the dean each year to introduce the president of the Michigan Dental Association at the start of the ceremony. Deb began her one-year term as the leader of the MDA in April.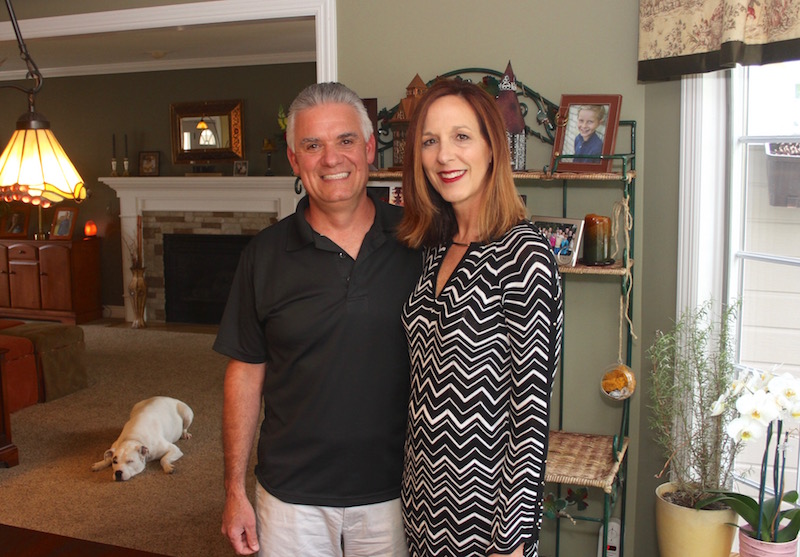 The Grand Rapids residents used their trip back to campus as an opportunity to re-visit the dental school for the first time in several years. Sometimes it takes a sentimental tour to reaffirm the obvious – that this is a place where they built a foundation for all the good things that have followed in the 25 years since they graduated in the Class of 1993. They wandered the hallways, sharing memories with students they encountered and talking with administrators about how dentistry and the school have evolved over the years.
Where they are today – the owners of a successful private practice and actively engaged in professional organizations – is no surprise for those who knew them back in dental school. While Deb is leading the MDA this year, Dan is serving on the board of directors of the Michigan Dental Association Foundation and chair of its development committee. Those are just the latest positions of what has been two resumes full of engagement with local dental societies, the MDA and the American Dental Association, dating back to dental school. This is a couple with a plan – both a business plan and a life plan – and part of the plan is that if you are going to be in the dental profession, you should participate, volunteer and lead where you can.
Even the way they met one day early in their first year of dental school is tied to Deb's longstanding commitment to get involved. She had joined the American Student Dental Association as a way to meet other students. As she canvassed for new members, she met Daniel Peters. "She wanted 35 bucks for ASDA dues and I didn't have any money," said Dan, who then began figuring out how to make a better second impression. His plan? Spurn superstition and convince Deb to go on a first date on … Friday the 13th. That was in October and by the end of their D1 year the following summer, they were engaged. They were married between their second and third years, spending their last two years not only making the grade but planning for their future.
Using dental school faculty and other dentist-mentors for advice, they looked ahead at how their careers might play out. They decided that they would purchase a small practice and work together to grow it. Once they had children, they would alternate working half of the week and staying home with the kids the other half. In their final year of dental school, they traveled around Michigan to visit numerous dental practices that were for sale. A few months after graduation in the fall of 1993, they signed a purchase agreement for a practice in Grand Rapids.
It was slow going at first. Both had to take second jobs and work six days a week because the new practice was not big enough to support their monthly expenses, which included the cost of the practice and paying back their educational loans. Dan took a job at a clinic in a Meijer store and later switched to teaching dental hygiene at a community college. Deb's second job was at a practice a two hour round trip away where she was, in effect, the lead dentist fresh out of dental school. She later taught head and neck anatomy at the same community college as Dan.
After a couple of years, their practice was big enough that they could abandon their second jobs. At around the five-year mark, it was doing so well that they were able to implement another part of their plan: find a new location and construct a new building for Peters Family Dentistry. They chose a neighborhood in south Grand Rapids and later bought a house only two blocks away. That made it convenient while they were raising daughter Maddy, a musician who is finishing college later this year, and son Kyle, a business major who just finished his first year of college.
When the Peterses reflect on people who were the most influential in guiding them in dental school and early in their careers, they cite several dental school faculty members. Some were extremely demanding, in a good way. Others modeled compassion and communication so vital to working with patients day in and day out. Perhaps the most important advice they received, Dan says with benefit of hindsight, was about running a dental practice. Professor Mark Fitzgerald, who is still a faculty member, impressed upon Dan and other students that a practice is a business and dentists need to find business expertise to help them navigate the difficulties. It was advice that Dan took to heart early on by hiring an accountant whom he still uses today. They developed a business plan, secured various kinds of insurance and implemented retirement planning, even back in the early days when setting aside money was difficult.
If that sort of business and financial planning is important for all dentists, it turned out to be especially so for Dan. After practicing with Deb for 19 years, his dentistry career ended in 2012 after he suffered a wrist injury while on a fishing trip in Canada. Surgery did not correct the loss of dexterity, forcing Dan to cope with extreme pain for several years as he attempted to rehabilitate the ligaments in his dominant right hand. Ultimately, he couldn't continue as a dentist. "It's been an interesting change in my life," he said. "It was hard, suddenly. I went to a dark place for a while and emerged as a better person, and life is good. I've learned to take value in helping people. I think, if anything, too much of my self-esteem was tied up in the practice of dentistry."
What could have been a financial disaster was reduced to a significant degree by a decision many years earlier, when Dan and Deb's longtime accountant and friend Ted Schumann insisted that Peters Family Dentistry have a healthy portfolio of insurance, including disability coverage. That helped reduce the impact of Dan's loss of income, though the loss of his work in the office had to be replaced with a new associate, Liz White. Dan has a new career using his years of experience and knowledge of dentistry to advise other dentists, particularly students and those early in their careers. He works with Schumann's company, Dental Business Services in Bay City, as a consultant, though Dan prefers the terms coach, friend, mentor, teacher, colleague and accountability partner.
Deb had her own health care challenge four years ago when she was diagnosed with breast cancer. She chose to publicly acknowledge her diagnosis and successful treatment, attending breast cancer awareness and fund-raising events with her staff and talking with patients about the experience. She was particularly gratified when a patient felt comfortable enough to confide that his wife had the same diagnosis; he asked for Deb's advice on the best things he could do to help his wife. She said it was the sort of honest, "real people" conversation that every dentist hopes they can have with their patients.
As Deb heads into her year as president of the MDA, she says her interest in leadership may be genetic: Her dad was mayor of her hometown of Leslie and her mom was active in community organizations. Dan says no one runs a meeting better than Deb, who admits to liking the "nerdy stuff" that may lead her to obtain her certification as a parliamentarian. "If I can use some of my talents and go around and be the person who can make the speeches and articulate the points that help our profession, I guess I'm just willing to do that," she said. "I feel passionate that if we have a profession, and we all work to maintain the ethics and the high standards within the profession, this is a great way to do it."
The Peterses say their recent trip back to the School of Dentistry strengthened their conviction that the school should be part of their longstanding and ongoing plan to give back to the profession that is at the center of their lives. They recently donated $50,000 to the school to fund two of the new operatories that are part of the major renovation and addition that begins this fall.
"Dan and I both ascribe to the fact that we are servant leaders," Deb said. "We're put here on this planet to do something. By God's grace, I am able to practice dentistry. Dan is able to give back in another way after practicing for 19 years. We wouldn't have what we have now if it wasn't for those gifts. You should give of whatever your time and your talents and your resources are. It's been good to us. When we look back on things, part of it is the dental school. I want to see that continue for future generations of dentists. It's the realization that, of course, we want the No. 1 school in the nation to have a facelift."

###
The University of Michigan School of Dentistry is one of the nation's leading dental schools engaged in oral health care education, research, patient care and community service. General dental care clinics and specialty clinics providing advanced treatment enable the school to offer dental services and programs to patients throughout Michigan. Classroom and clinic instruction prepare future dentists, dental specialists, and dental hygienists for practice in private offices, hospitals, academia and public agencies. Research seeks to discover and apply new knowledge that can help patients worldwide. For more information about the School of Dentistry, visit us on the Web at: www.dent.umich.edu. Contact: Lynn Monson, associate director of communications, at dentistry.communications@umich.edu, or (734) 615-1971.