Dental students explore Prosthodontic Clinic's digital technology

3

min read
Ann Arbor, Mich., April 16, 2018 -– The finer points of operating an intraoral scanner were the focus of a special clinic last week for about 50 first- through fourth-year students at the University of Michigan School of Dentistry.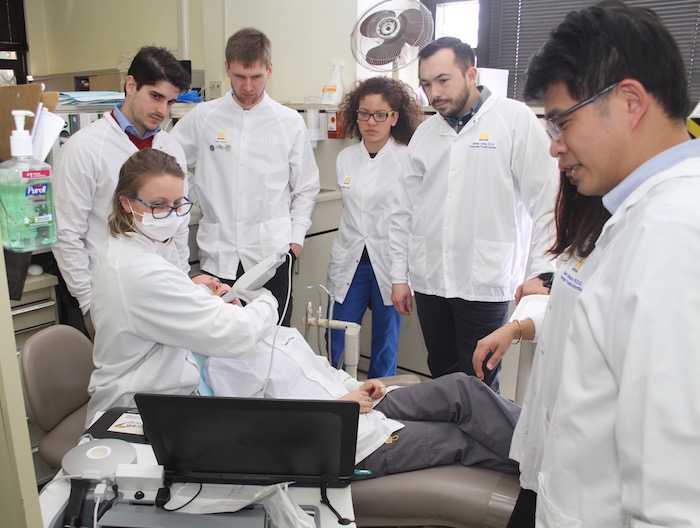 The students were invited to the school's Prosthodontic Implant Clinic over two days during National Prosthodontics Awareness Week. It is sponsored by the American College of Prosthodontists, or ACP.
Graduate prosthodontic residents showed the dental students how a Trios 3 Shape Intraoral Scanner captures digital images of a patient's mouth. A hand-held electronic wand is passed along the upper and lower teeth, creating an electronic 3-D likeness or impression. The digital impression is then sent to a lab, which creates implants, crowns, bridges, dentures or other restorations the patient needs because of deficient or missing teeth. The new digital technology supplements the longstanding method of using alginate or other specialized materials that are soft when put in the patient's mouth for an impression, then harden when removed.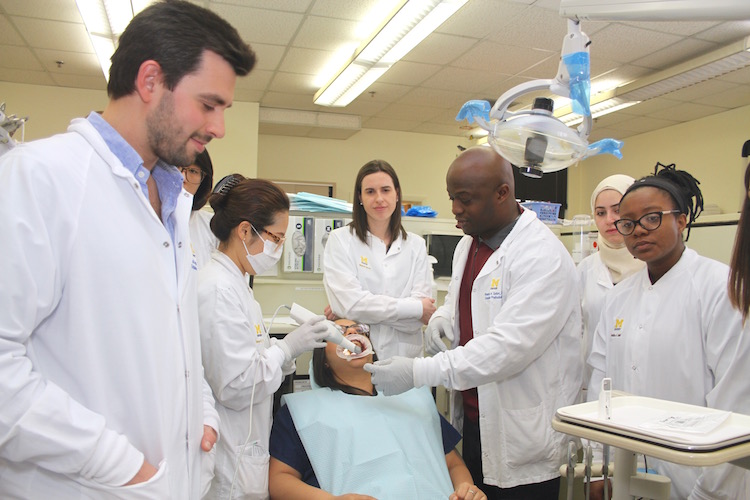 Graduate prosthodontics residents also offered general information about the specialty to the dental students during a lunch presentation after the clinic demonstration.
Dr. Lisa Kane, a clinical assistant professor in the Division of Prosthodontics, said the event was held to give students the opportunity to experience the latest in digital technology, especially for prosthodontic applications. Kane, who is president of the Michigan chapter of the ACP, said the organization's public relations event is timed to coincide with Oral, Head and Neck Cancer Awareness Month in April, sponsored by the Oral Cancer Foundation, because many prosthodontists help patients recovering from this form of cancer.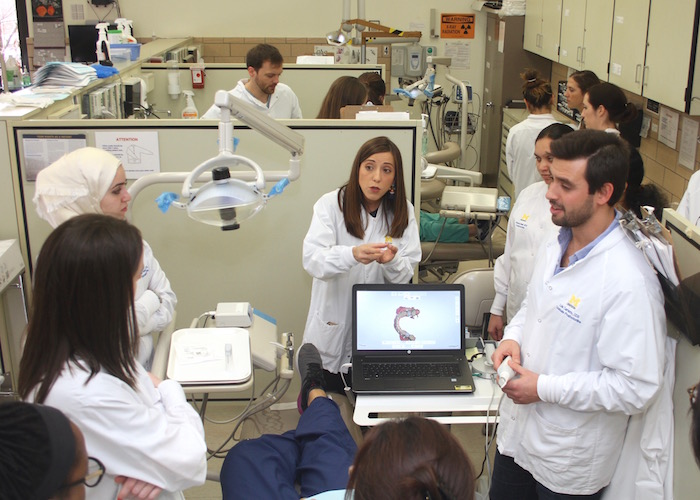 ###
The University of Michigan School of Dentistry is one of the nation's leading dental schools engaged in oral health care education, research, patient care and community service. General dental care clinics and specialty clinics providing advanced treatment enable the school to offer dental services and programs to patients throughout Michigan. Classroom and clinic instruction prepare future dentists, dental specialists, and dental hygienists for practice in private offices, hospitals, academia and public agencies. Research seeks to discover and apply new knowledge that can help patients worldwide. For more information about the School of Dentistry, visit us on the Web at: www.dent.umich.edu. Contact: Lynn Monson, associate director of communications, atdentistry.communications@umich.edu, or (734) 615-1971.