Dental Hygiene Program Presents First Hard-Welke Scholarship

5

min read
Ann Arbor, Mich., April 11, 2018 — A new scholarship that honors the late Dorothy Hard, the longtime director of the Dental Hygiene program at the School of Dentistry, has been established with a gift from an alumna.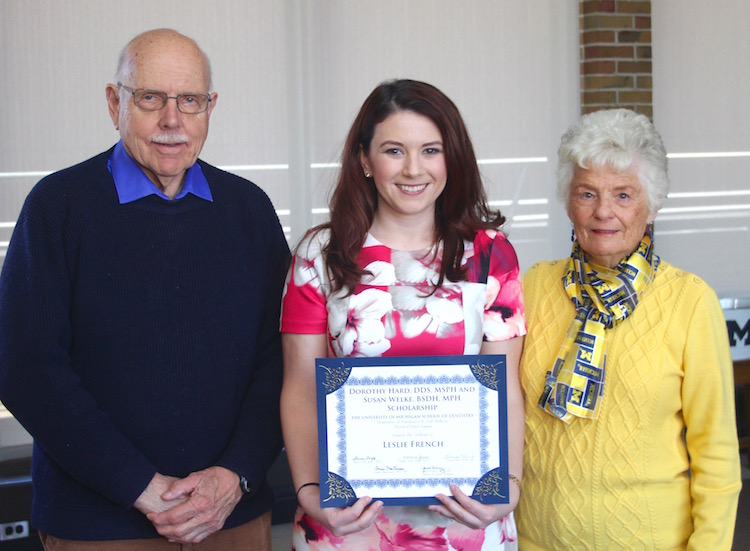 The Dorothy Hard and Susan Welke Endowed Scholarship was created with a $50,000 gift from Welke and her husband, Dr. Robert Welke, of Champaign, Ill.
Second-year DH student Leslie French was announced as the inaugural recipient of the scholarship at a luncheon on March 23.
Susan Welke earned a bachelor's degree in Dental Hygiene in 1961 and a master's degree in Public Health in 1964, both from U-M. Her husband is also a U-M alumnus, for both his undergraduate and medical degrees.
"Bob and I feel so fortunate to be in a position to be able to present this scholarship," Welke said at the luncheon. "We both appreciate the educational opportunities that were available to us at Michigan and how that education has enriched our lives far beyond our imagination."
Welke said she wanted to include Hard in the scholarship name because of her influence over the Dental Hygiene program and its students for so many years. Hard was director of the program from 1924-1968, helping shape an estimated 1,600 students through the years with her unrelenting professional approach to dental hygiene education. "I believe the reason that this school was of such high quality years ago, and continues to be today, is because of Dr. Hard's commitment to excellence," Welke said. "Dr. Hard had high expectations for all of her students. She provided us with the knowledge and skills that would lead us to be successful in our dental hygiene careers."
Welke was a dental hygienist for two years in the private practice of dental school faculty member Dr. Donald Kerr while her husband finished his medical degree. After she earned her master's in Public Health, the Welkes lived on the East and West Coasts because of Robert's military commitment. After her initial years as a hygienist, Susan spent the rest of her professional career in various public health positions around the country before the couple finally settled in Champaign and raised a son and a daughter, both of whom are also U-M alums.
"It wasn't until later in my life that I realized what my education here at Michigan meant to me," Welke said. "It opened doors for me that I never thought were possible. In meeting and talking with other people over the years, I knew that my Michigan education was of the highest quality."
"This scholarship enables us to give back to the University of Michigan in just a small way compared to what the university has given us," she said.
In announcing French as the first recipient of the Hard-Welke Scholarship, Dental Hygiene Program Director Janet Kinney thanked the Welkes for their gift, which she said is a significant addition to the program's efforts to increase student financial aid. Kinney said the scholarship selection committee was impressed by French's decision to leave a factory job in search of a profession that could offer her a better future. French also dealt with a family illness and other demands that make it difficult to work in order to pay for her education.
After graduating from high school in her hometown of South Lyon, Mich., French worked for six years in the same steel mill where her father worked. She was a quality inspector for steel tubes manufactured for oil drilling and military equipment, sometimes also operating an overhead crane. The pay was good, but the days were long and the work weeks often stretched to seven days. She began looking at other careers, eventually shadowing a dental hygienist. "I wanted a job that made me feel that I was doing something important and accomplished," she said. Some of the college dental hygiene programs she contacted didn't reply, but U-M responded immediately and explained what prerequisites she would need. She earned her associate's degree at Washtenaw Community College in Ann Arbor and was accepted into the U-M program in 2016. She is the first member of her family to attend college.
French said she is grateful for the Welkes' generosity, which provides a $1,500 annual stipend. "I love the fact that after all these years, Susan still has a bond with the University of Michigan," she said. "It shows me how much she really enjoyed the program and still wants to be involved with it. Receiving the scholarship has been a big help, with being able to help out my parents and not have to worry about financial strains."
French's short-term career plans are to refine her skills in clinical practice, then broaden her career into more community service with underserved populations. "I love helping people and seeing that appreciation on people's faces. It's just the best feeling in the world," she said in her scholarship application.
###
The University of Michigan School of Dentistry is one of the nation's leading dental schools engaged in oral health care education, research, patient care and community service. General dental care clinics and specialty clinics providing advanced treatment enable the school to offer dental services and programs to patients throughout Michigan. Classroom and clinic instruction prepare future dentists, dental specialists, and dental hygienists for practice in private offices, hospitals, academia and public agencies. Research seeks to discover and apply new knowledge that can help patients worldwide. For more information about the School of Dentistry, visit us on the Web at: www.dent.umich.edu. Contact: Lynn Monson, associate director of communications, at dentistry.communications@umich.edu, or (734) 615-1971.