Polverini Honored by Marquette University

1

min read
Ann Arbor, MI — April 26, 2013 — Dr. Peter Polverini, dean of the University of Michigan School of Dentistry, received the Distinguished Alumnus in Dentistry Award today from his alma mater, Marquette University. The award was presented by the University's School of Dentistry and the Marquette University Alumni Association.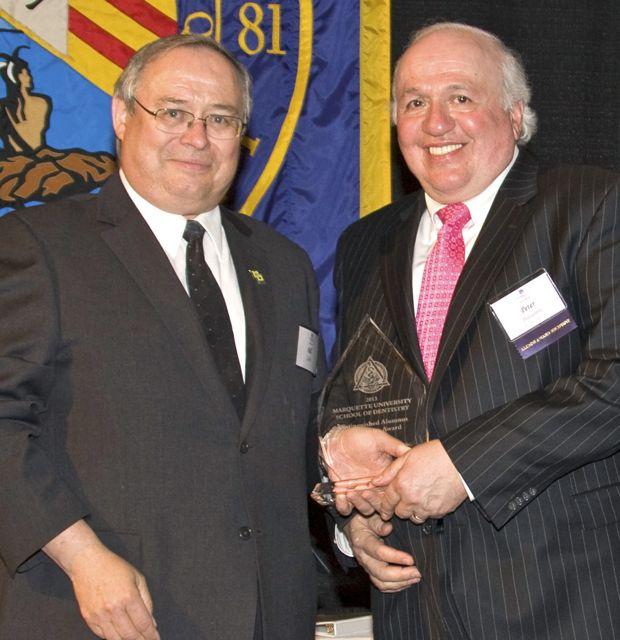 Polverini earned a Bachelor of Science degree in biology in 1969 and a DDS in 1973 from Marquette University. He completed his specialty training in oral and maxillofacial pathology at the Harvard School of Dental Medicine, receiving his Doctor of Medical Sciences degree in 1977. He taught at the University of Pittsburgh and later at Northwestern University before coming to the University of Michigan School of Dentistry in 1992. He was named dean of the University of Minnesota School of Dentistry in 2000, but returned to Michigan in June 2003 to become dean of the School of Dentistry. His second five-year term as dean ends August 31.
In March, Polverini became president of the American Association for Dental Research during the organization's annual session in Seattle. He will be the commencement speaker during the University of Michigan School of Dentistry's graduation program on Friday, May 10, at Hill Auditorium.
A strong proponent of integrated health care and personalized medicine, Polverini is among the leaders in dental education advancing the concept. The School of Dentistry's new curriculum ensures its graduates are prepared to meet future challenges that will face the health care system.